Posted by Founder, Bicycling Monterey
Bike East Salinas / The Alisal
Many people who bike Salinas miss out on this culturally rich section of the city. Share this post to help them discover East Salinas / The Alisal.
NOTE: This post was published in 2014, with some subsequent updates.
Pleasures, Protests, and Promise
This post includes:
An intro to the Alisal, and a gallery of photos

Tips for biking the Alisal

Some ways for residents and visitors who bike, and others, to take positive action in the Alisal

A sampling of Salinas stories and resources found on the Bicycling Monterey (County) website

Peace and justice: Across the spectrum

Also, a previously published post, with scenes from a Closter Park observance
Related posts at bikemonterey.org: (a) "Salinas Valley, Salad Bowl of the Nation — Who could be hungry?" ; (b) "ICE Advisory for People Who Bike – Immigrants and Law Enforcement in Monterey County" ; (c) "Aussies, others ask: Immigration – What's up with U.S. policies?"; (d) "'East of Salinas' and Deferred Action for Childhood Arrivals / DACA Renewal Clinics"; and (e) Inmigrantes / Immigrants: "Haciendo una vida – El conocimiento es poder" / "Making a Life – Knowledge Is Power."
Sit back and enjoy a variety of glimpses of The Alisal, a culturally rich part of Salinas, the Monterey County seat and its largest city. 
Alisal / East Salinas is home to about 61,000 of the more than 150,000 people who live in Salinas.
Ruben Gonzalez sees his city this way, as he said in a 48-second video intro to Ciclovía Salinas by J.V. Guajardo. "Salinas is one whole, it's not different sections that we believe to have….People from one side of town go into the other side of town, and they see the beauty both sides have to offer."
Salinas native Larry Hosford, who lived on Orchard Avenue, wrote in his song "Salinas" that "the right side of town was wrong, the wrong side of town was right." Hosford's song is regarded as an East Salinas anthem to the Mexicans and Oklahomans who relocated to Alisal—"Where did the Okies go when the dust began to blow?… Send all the Okies and the Mexicans home, you'd soon have nothing to eat." https://www.youtube.com/watch?v=eV_8cBkiybs
The first Ciclovía Salinas (Open Streets) events took place on Alisal Street, bridging Salinas from Sanborn Road in East Salinas to downtown. For the next date, see Bicycling Monterey's http://bit.ly/CicloviaSalinas resources page.

Photo below, courtesy of Rob Garcia, is from the 2014 Muertos observance at Closter Park.
If you're from elsewhere, and most of what you know about the Alisal might come from brief TV news stories about violence. For a deeper perspective, read Allison Gatlin's 11/11/14 article in the Californian: "Agencies aim to bolster public safety in Alisal."
Closter Park is a vibrant hub for residents and visitors on such occasions as when the community observes Día de los Muertos / Day of the Dead. My photo below is from the 2012 observance; scroll to the end of this post for more. And for a summary about Muertos and misconceptions surrounding it, click here.
At the Alisal Center for the Fine Arts (located at the Breadbox, 745 N. Sanborn Rd), the above draft design, a community collaboration, was in progress in April 2015. What a beautiful mural is in the making! Stop by and ask Eddie Chavez to share with you the meaning behind the many beautiful symbols of this mural, such as the butterflies, which represent the migrant workers, and the arms of four field workers, representing the strength they bring from four directions.
Later in this post you'll see Jeff Richman, a longtime Alisal resident and a Guitars Not Guns volunteer who teaches guitar lessons at the Center.
You'll also see the BMX love of artist Bryan Perez, discovered at the Center.
The post below was first published in May 2014, with some subsequent updates.
When the photo above was taken on April 30, 2014, as Bike Month was about to begin (note the poster in the window), the business on this corner was typically busy, with many shoppers inside. On May 20, a tragedy occurred near this entrance–the death of Carlos Mejía–which was followed by community turmoil.
Scroll down to "Peace and justice: Across the spectrum"  to learn more, including an intro to police legitimacy and procedural justice, info on community policing and relationships between communities of color and law enforcement, ideas for those who unite with others in group protests, and links to background about the spring 2014 tragedies.
Bicycling Monterey is in agreement with the statement of 2nd Chance Family & Youth Services: All issues facing our community are to be aired in public, peaceful, and respectful forums. We will not support any other forums that pit people against each other or promote violence or any form of negativity.  To read the 2nd Chance message in its entirety, scroll down.
Below are some of the many positive ways that both locals and visitors can respond.
1. An Intro to the Alisal / East Salinas

The Alisal, also known as simply "Alisal" or "East Salinas," is represented on the Salinas City Council by Scott Davis, District 1; Tony Barrera, District 2; and

Gloria De La Rosa, District 4.

About 25% of the Alisal's population lives below the U.S. poverty level.
East Salinas has a lively business district. In Roberto M. Robledo's 5/16/14 Californian story, "Agents of change fan out in Alisal," that was emphasized by Tony Barrerra.   [Update from Dennis Taylor's 6/14/14 Californian story, "Alisal business district vibrant amid challenges": City of Salinas sales tax revenue for 2013  includes $2,269,128 from East Salinas zip code 93905. As shown in the chart in Taylor's story, that's over 10% of the sales tax collected citywide.]
In the Alisal, you'll get the dynamic flavor of the predominately Hispanic/Latino makeup of Monterey County (in Salinas, that's over 70% of the population).
Besides English being spoken by many residents, a delightful flow of conversation can also happen for Spanish-speaking visitors, linguistics students, and other language enthusiasts visiting the Alisal. Salinas has a predominately bilingual population (67% of residents age five or older speak a language other than English, usually español).
One wonderful part of being in the Alisal is that you find many warm,  friendly people. If you're not a Spanish speaker, try it! Practice a few phrases, even "Hablo en español muy poco y muy mal." You'll find most locals are muy sympatico–very nice–and are happy to help you  find their neighborhood favorites. Ask them, or just enjoy exploring, and you'll come upon fantastic markets,  restaurants and other eateries, and trades people with old world skills at moderate prices.
Learn more about the Alisal as you view the photos below. You can also pick up a few more tips in Bicycling Monterey's Bike Salinas section.
Recognize your connectedness to neighborhood residents. Here's just one way: You've likely eaten many meals that began as fresh produce from the Salinas Valley, Salad Bowl of America. In the Alisal, you can meet many of the individuals who help bring food from field to table, year after year.
Check out the "Faces of Alisal" series in the Salinas Californian. The series began 5/16/14 with Robledo's "Agents of change," and is planned to include writing by Allison Gatlin, Public Safety; Valentin Mendoza, Assimilation; Jeff Mitchell, Politics and Governance;Dennis Taylor, Business and Economy; Food and Entertainment, Joe Truskot; and more from Roberto Robledo, next time on Youth and Education. [Update: See "Acosta Plaza in Salinas coming out of the shadows" by Roberto Robledo from the 3/6/15 Californian.] You may also be curious to read some history snippets about the Alisal from a 6/18/13 Los Angeles Times story.
One view of the Alisal is provided in Carolyn E. Brown's film "The Salinas Project." It premiered in Monterey County 10/18/14 at the Carmel International Film Festival. Unfortunately, there were no other county showings, including none in the Alisal. (Ms. Brown indicated that she had a new baby and packed work schedule, and it would be necessary to have volunteers obtain a venue and organize if any additional local showings are desired.) Here's the trailer: http://vimeo.com/83868901
This post is being updated on Memorial Day 2014, which brings to mind U.S. Army Spc. Vilmar Galarza Hernandez. So I begin this gallery of Alisal residents remembering Vilmar, who was killed in Afghanistan at age 21, giving his life in military service. Click here for more info.
Vilmar's parents were among the many Alisal residents who work the fields.
The Alisal Certified Farmers Market is one place to scoop up those delicious fruits of their labor. Biking to the farmers markets is a multiple-win–including the exercise and experience of the neighborhood in getting there, the fun of chatting with the vendors, and the nutritious food that is fresh local produce, an increasing amount from organic growers.

Cargo bike in the Alisal
 Fixies are popular with youth and young adults in the Alisal, as they are countywide and beyond.
This guy loves his fixie too! On the day I met him, he took the MST bus from Watsonville to downtown Salinas, then biked to the Alisal.
As the bike commuter below knows, on public streets, a brake is required by law—that's why there's one on his BMX. When I met him on Acosta Plaza, he was also well equipped for biking in the dark.
For related news, see "Keeping the local bike scene cool: It's a multi-pronged effort."
Stop on the corner of Garner and Rider in East Salinas and pick up a snack at EZ Market. Are you a mountain biker, like the MORCA bunch? Say hi to Ezra at EZ Market, who is a fellow MTB-er.
And by the way, that mural is one of many cool murals throughout the Alisal. A 5/27/99  Monterey County Weekly story by Richard Pitnick, "Murals tell colorful, informal stories about Latino history," gives you a start. Check the galleries of photos from the inaugural Ciclovia Salinas (10/6/13);  mural shots are included. And you'll see Alisal Street in the rare state of being car-free:
by  Jay Dunn, published in the Salinas Californian, click here
by Vern Fisher, published in the  Monterey County Herald, click here
Among longtime residents of the Alisal is Jeff Richman, along with his wife, Kathy, and two now-adult daughters. Jeff's longtime career as a school nurse, and Kathy's as a first grade teacher, means they are very much in touch with the needs of youth of the Alisal. A volunteer with Guitars Not Guns and other community efforts, Jeff is also an avid bike commuter in East Salinas, and beyond. Below, Jeff was training in the Salinas Valley for a bike ride to help end AIDS.
Photo courtesy of the Richman family.
Jeff isn't the only Alisal resident for whom music–as well as art and dance–are a dynamic part of  neighborhood life.
Below, I was stopping by a lavandería on East Alisal Street to chat about bikes with some people there.
Not everyone loves night riding like I do! For those who don't, remember that, day or night, you don't always have to bike all the way to your destination. Make use of  bike-and-ride options, such as Monterey-Salinas Transit (MST/"The Bus") or a personal vehicle bike rack.
Below, high-visibility tape on my bike trailer adds to night riding safety.
In some shopping centers throughout the county, bicycling is discouraged. In other cases, as is the case at the East Alisal Shopping Center, bicycling is officially prohibited. (The shopping center parking lot is private property, not a public road, so restricting bikes there is legal.)
But that doesn't mean you can't bike to the center. Clearly the property owner welcomes that: this shopping center does have bike racks.
On arrival at this shopping center, the recommended advice would be to park your bike and walk. Here as in other shopping centers, use common sense. Be extra alert for cars if you make the personal decision to bike in the parking lot anyway; because of the large number of parked vehicles, it can be hard for drivers to see bicyclists, as well as pedestrians.
Here, walk your bike on any sidewalks, showing extra courtesy to pedestrians. Take care not to block any business entrances or to create a hazard for pedestrians with regard to where you lock up your bike.
What about sidewalk riding in other Alisal locations? What's legal and what's safe regarding biking on sidewalks, throughout Salinas?
Here's an overview about sidewalk riding: "Bicycling on sidewalks: misconceptions and advisories," by Frank Henderson and Mari Lynch, Salinas Californian, 10/15/14.
As that overview in the Californian indicates, biking on sidewalks in Salinas is legal in nearly all of the city. Click here to read the City of Salinas ordinance referred to –  Sec. 20-108. – (Ord. No. 2274 (NCS), § 6.) 
Refer to Bicycling Monterey's CA Bike Laws and Skills/Safety section for more info on sidewalk riding in Salinas. Feel free to contact me if you have any questions.
Staff–like the man below–at Mi Pueblo in the East Alisal Shopping Center are typically helpful and bike-friendly. This includes that the manager has approved contributing copies of bike law and safety information, to support bike advocacy and safety outreach.
Others in the Alisal  have pitched in with copies to support local bike advocacy too–including Amezcua Insurance Services, GTO Printers, and Souza's Alisal Pharmacy. Learn more about each in Contributors of Project Supplies.
You may also wish to refer to Bicycling Monterey's Shopping by Bike section.
2. Tips for people who bike
Salinas bike maps are provided by the City of Salinas in

English (click here to download PDF)

and

español (click here)

. The maps include some safety tips too.

As usual, follow California bike laws and safe riding practices. As mentioned above, note the sidewalk riding ordinance.
It makes sense that on some busy streets, e.g., on Sanborn Road, many people are uncomfortable biking in the street and prefer to bike the sidewalks. If you prefer biking sidewalks, know that sometimes sidewalk riding can be more hazardous for bicyclists than biking in the street. Be sure to read the tips on sidewalk riding in that CA bike laws/safety section.
As you can tell from the photos in this post, I bike the Alisal regularly. I love biking Salinas, including the many flat, wide streets, often in low traffic areas.There are, of course (as is true countywide), many busy streets too, and many streets without any bike lanes. If you have questions or need help, feel free to contact me. Just as Frank Henderson and Phil Yenovikian have offered support for people biking between Salinas and the Monterey Peninsula, I am likewise happy to set up some small group rides with people who would like to get more at ease in biking the Alisal and elsewhere in Salinas.
Advocate for bicycling by sharing info with others:
Print and share the following. (CA DMV website does not yet have bicycle equipment requirements in Spanish, so many people may not yet have this info.) Download here: Leyes de ciclismo de CA – Laws for bicyclists in CA (Spanish, English) – Summary (For other

Spanish biking resources, click here

.)
Print and share bike law summaries with the many people who do not have web access and will appreciate paper copies. Download here: Be Cool, Be Safe – Bike Law Summary & Advocating for Biking
Why paper? Pew Research reported in 2013 that one-third of those making less than $20,000 a year do not go online, and that another third go online, but do not have Internet access at home. See Pew Research's 2021 update: "Digital divide persists even as lower-income Americans make gains in tech adoption."
For a variety of other posters, mini fliers, and such, click here.
Additional local bike info:
For general info on biking Salinas and throughout Monterey County, click here for a 20-section guide.
For biking activities and events in the Alisal and throughout Monterey County, click here.
For biking resources and community connections in Salinas and countywide, click here.
For more Spanish-language resources for people who bike, click here for Bicycling Monterey's resource compilation.
The cut-off of Constitution Boulevard means the Creekbridge Shopping Center, in the 93905 zip code, is officially part of East Salinas too.  The family pictured below found the nearby Class I bike path a good place for children to develop bike skills, while Mom and Dad jog alongside. That car-free bike/multi-use path is behind Creekbridge Shopping Center and adjacent to Monterey County Vietnam Veterans Memorial.
Hey, I'd like a mirror like the one I saw on this guy's bike, at Hebbron and Alisal.
I have a dream of East Salinas as the crown jewel of bike-friendly streets in Monterey County! I can picture beautifully landscaped bike-walk boulevards with rapid transit stops too (click here for one in Sand City), for those many people who bike-and-ride or otherwise use the bus.
Salinas has provided 95 miles of connected bikeways for travel throughout the City and continues its work to complete the City bicycle network.  Reference:  News Release 05 07 2012 Salinas Council Pedal Power.
City of Salinas planner James Serrano has long cared very much about making the Alisal and all of Salinas as bicycling friendly as resources and infrastructure limits allow.  James is eager for ways to expand and improve infrastructure for people who bike wherever possible.  In newer areas of the city, that's easier. In older areas, it can get frustrating for a bike-friendly planner like James!
He has been alert to San Francisco as a proving ground of sorts regarding Cal Trans restrictions and "green lanes" in California, seen by many bike advocates as one good solution to bike infrastructure challenges.
[Update: And there's good news for James and other planners and engineers who want to improve biking in California cities.  Governor Jerry Brown has signed AB 1193, the Protected Bikeways Act. Click here to learn more at the California Bicycle Coalition website.]
When an Alisal bikeway hazard was pointed out recently, James Serrano was on it rapido!
An adjacent irrigation pipe was protruding in the bike lane. But not for long! After reporting it to James, he went out the same day and it was fixed immediately. These city employees are busy dudes–and dudettes–so I'm not saying service can be that fast every single time. But if there's a bikeway need, James wants to know about it!
What to report? Bikeway conditions including potholes, debris on shoulders or bikeways, bikeways not clearly marked, damaged or missing bikeway signs, traffic signal not triggered by bicycles (no bike detection), vegetation overgrowth, construction obstacles, and other conditions interfering with safe and efficient travel by bike.
On their California Springtime Protest Pedal to Stop Distracted Driving, these Eric Okerblom memorial riders biked East Salinas, shown here on Alisal at Sanborn.
It's sometimes said that many yards in the Alisal are full of cars. Bikes are often equally represented!
And helping little ones learn to bike safely is why Dr. Martin Luther King, Jr. Academy in the Alisal was one of the schools chosen by the Transportation Agency for Monterey County for bike safety training.
Above: bike rodeo photo from MLK Academy, courtesy of Elise Ehrheart of Bike Smart!
Many students at MLK walk to school, and a smaller but increasing number bike to school as well. For those bike-to-school students–plus the many students who simply bike in their neighborhoods! Principal Kristi Burns likes to support them in biking safely. Principal Burns knows that bicycling has benefits to physical, mental, and emotional well-being, along with other benefits.  She'd love to make it possible for more of her students to bike with the helmets required by CA law for minors. The principal's wish list includes securing funds to purchase helmets that can be given to students, along with bike safety instruction. Principal Burns made that need known to Bicycling Monterey, who advised appropriate others of the need too–and they responded with a helpful start. In 2014, Dr. Martin Luther King, Jr. Academy is one of the sites selected by the Transportation Agency for Monterey County for Bike Smart! Safety Training. And in addition, the school was gifted a dozen bicycle helmets by Little Bellas. This good start is thanks to Kristi Burns, as well as office assistant Maria Ortega, for being tuned in to students' needs and expressing those needs.
See Kids Bike to School to learn more. [Update: Including about more Bike Smart trainings at Salinas schools in 2015.] And while you're there, read what's up with Bardin Elementary in the Alisal too!
Across from Virginia Rocca Barton School is a skate park.
People who bike often gravitate there too, which highlights the need for a bike park!
A crisis gets attention. Positive actions throughout the year, in partnership with residents and others, help prevent  crises and strengthen quality of life.
3. Some ways for residents and visitors

who bike, and others,
to take positive action in the Alisal

What are some ways that Monterey County locals and tourists can partner with residents of the Alisal in nurturing the community?
Sadly, crises like this contribute to people avoiding Salinas, like those Steinbeck fans mentioned in the 10/16/23 Californian piece, "Salinas youth and city officials: New partners in tourism."  In my experience, there's no reason to skip Salinas, any more than you'd skip a trip to Big Sur because a car had fallen off a cliff.

Regardless of any other viewpoints, people who bike can be united in supporting youth and others in the healthy activity we  love: biking! Below are ways to do this in individual action or in partnerships with others.
A/#1.Support youth activities
The Breadbox Community Center and the Hebbron Family Center offer Saturday Evening Teen Programs among other activities throughout the week. These may include a bike component from time to time, such as the 5/31/14 bike rodeo at the Breadbox. Contributing raffle prizes, volunteering time, or helping in other ways is welcome.
The Breadbox also houses the Alisal Center for the Fine Arts. It was there in Fall 2011 that I met some young artists doing bike art, while I was attending a community meeting about the county's Youth Center.
B/#2. Support bike-friendly  businesses of East Salinas / The Alisal.
Remember favorite restaurants that participate in the HER Helmet Thursdays project. Bike or bike-and-ride there on a Thursday and get a discount. See FAQs here.
Hey, that cargo bike gets around!
Below, I spotted that particular bicycle again, this time on Acosta Plaza, where we were having a bike class meeting over lunch at Taqueria El Grullense, which isn't in the HER Helmet Thursdays project–yet anyway–but is nonetheless another of my favorite stops in the Alisal. If you see the owner, let them know they can sign up online, or by phone–and there's no fee.
Exploring the Alisal by bike–as with anywhere!–means it's easier to pause and check out new spots.
That's how I discovered the delightful people and yummy food at Maria's Catering wagon by the Walgreen's on Sanborn, as well as at La Estrella at 613 N. Sanborn (next to a 711).
And being out exploring is how I happened upon the gas station that houses Taqueria El Kiosko on Williams Road at Alisal Street. They tipped the scales and proved, in my experience, that the Alisal has more great-tasting vegetarian sopes for a reasonable price in one square mile than in the entire rest of the county!
Food in the Alisal isn't all just Mexican restaurants and other Latino fare, or the usual chain restaurants that are  found virtually anywhere you travel. Looking for a change of pace? Pedal over for a smoothie at Natura-Vida on East Alisal Street.
Also support bike-friendly businesses and organizations throughout Salinas!
Among hundreds of businesses countywide participating in HER Helmet Thursdays are dozens of other Salinas spots. The first 35 are highlighted in the Bike Salinas section of this website.
The Youth Center serves boys ages 14-17 who come from throughout Monterey County. The Center is located in the Alisal/East Salinas.
D/#4. Support Ciclovia Salinas – "Where the streets are yours – ¡Donde las calles son suyas!"
Contact Ciclovia Salinas to offer your help in preparing for the next dates. The first four were a youth-led initiative of Building Healthy Communities-East Salinas, as the fifth will also be. Visit the
Ciclovia Salinas resources page
for next date, contact info, and other information.
Ciclovia Salinas, Monterey County's first Open Streets, is one of the first 12 Open Streets in California and first 100 in North America. Did you know that Salinas is also recognized as a North American leader in equity for Open Streets? See
Ciclovia Salinas at National Open Streets Summit
.
Tell Salinas youth about Ciclovia Salinas youth internship opportunities.
Enjoy the streets of the Alisal and beyond at Ciclovia Salinas. Listen to a 2-minute audio from
KUSP
.
From the Alisal to Oldtown, Ciclovia Salinas connects neighborhoods and people, as Ruben tells in the audio below.
Ruben Gonzalez and others extended a video invitation to Ciclovía Salinas in a 48-second production by J.V. Guajardo. [Check with Ciclovia Salinas for a link to that video, as its Youtube link was now inactive.] The first five Ciclovía Salinas events are in East Salinas.
E/#5 Contact me for other  ideas.
The girl I met in the Alisal who was running errands for her family on this bike was happy indeed. What a cool bike! Even has a fender for the rainy season. Gracias, madre y padre!
These five businesses were the first in the Alisal to participate in the HER Helmet Thursdays project (discounts on Thursdays for people who bike. See FAQs here.) Bike or bike-and-ride to one or all, and por favor, let them know you appreciate their bike-friendliness. (For more Salinas HER Helmet Thursdays spots and additional tips for all of Salinas, click here.)
between Hebbron and Pearl
Also participating are all La Plazas in Salinas and countywide.
4. A sampling of Salinas stories and resources from the Bicycling Monterey (County) website
The Bicycling Monterey site and projects are provided as a public service. Volunteers and contributions are welcome and appreciated.
5. Peace and justice: Across the spectrum
Work with community members from diverse backgrounds to identify commonalities, resolve differences, and together, make Salinas a better place for all residents and visitors.
Explore ideas from other parts of the country. Many are offered in a U.S. Department of Justice, Community Oriented Policing Services 24-page report published in 2014, "Strengthening the Relationship between Communities of Color and Law Enforcement: Developing an Agenda for Action."
Support justice and peace by identifying and supporting the best practices by all community members–including initiatives by social justice leaders and a critical new direction for Salinas Police Department.
What is that new direction? Many of us are both deeply concerned about the March 20, May 9, May 20, and July 10 officer-involved shootings and groundedly optimistic about the future. Why? Because of a highly important action only recently taken by Salinas Police Department. This action was announced on 3/28/14 at a talk at CSUMB by David M. Kennedy, author of Don't Shoot. (Missed the talk? Listen via KAZU.)  That important action/new direction:  Salinas is the first PD on the West Coast to have 100% of its PD trained in police legitimacy, and procedural justice. Read more about procedural justice here.
The choice by Salinas PD leadership to move in this new direction is significant. And it is not a surprising direction, since the Chief since June 2012 was honored by the White House in April 2012–along with youth Fernanda Ocana of Salinas— as two of a dozen Champions of Change, for their work with youth violence prevention.
On May 25, 2014,  Frequently Asked Questions: Officer-Involved Shootings in Salinas were posted by the Salinas Police Department; Preguntas Más Frecuentes: Recientes Tiroteos en Salinas.
Update, March 12, 2015: The U.S. Department of Justice's Office of Community-Oriented Policing Services (COPS), in response to Salinas PD Chief's request, has agreed to monitor Salinas PD during a two-year reform process. See "U.S. Department of Justice's COPS Office Begins Collaborative Reform Initiative Process with Salinas." For local media coverage, see March 12, 2015 stories from the Salinas Californian, the Monterey County Weekly, and the Monterey County Herald.
For later updates on the 2014 officer-involved shootings, and FAQs, see http://www.salinaspd.com/frequently-asked-questions-officer-involved-shootings-salinas-page
Below: Salinas Police Chief conducting 6 a.m. barricade volunteer training for the inaugural Ciclovia Salinas,10/6/13.Photo by Aurelio Salazar, Jr. of Community Foundation for Monterey County, a supporter of Ciclovia Salinas.)
@MelendezSalinas
posted on Twitter the photo below of Chief McMillin repairing a man's bike on Alisal at the inaugural Ciclovia Salinas.  [Used on the Bicycling Monterey site by permission of Claudia Melendez Salinas.]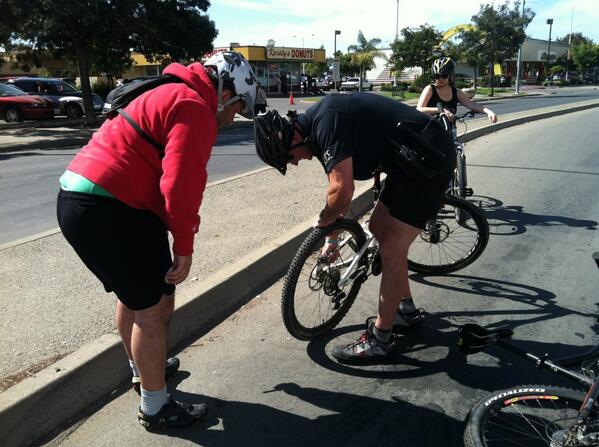 Below are slides I took at David M. Kennedy's talk at California State University Monterey Bay, 3/28/14.
My apologies:
When posts are long…
such as the Bike Salinas section, the California bike laws and personal safety/skills section, and the Bicycle Advocacy: What you can do page, something glitchy happens in WordPress. My remedy, until that's resolved someday, is to make the type a stand-out color, such as orange, so the text can still be read.

The Bicycling Monterey site and projects are provided as a public service. Volunteers and contributions are welcome and appreciated.
Thanks to David Kennedy, who granted me permission on 3/28/14 to publish these slides. Little did I know then that I'd be wanting to use them soon!


Rights in America include the

First Amendment

right to assemble for peaceful protests.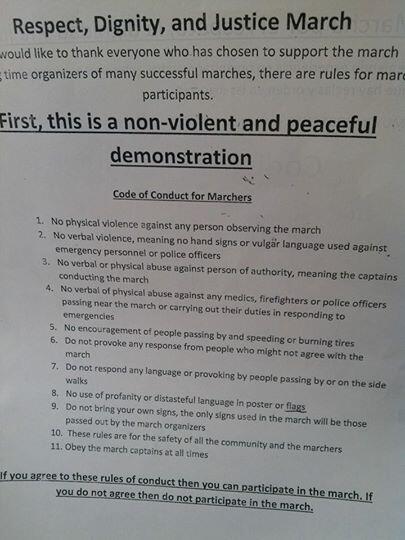 Show respect for the neighborhoods in these and other  ways:
Be peaceful in all your actions. Claudia Melendez Salinas /

@melendezsalinas

offered these words on 5/22/14: Mantengan la calma, por favor

http://

montereycountyschools.blogspot.com/2014/05/vecino

s-de-salinas-mantenga-la-calma-el.html

Please remain calm.

http://

montereycountyschools.blogspot.com/2014/05/salina

s-residents-please-remain-calm.html

Peaceful protests are welcome; violence and other unlawful behavior are not. Chief of the Salinas Police Department stated 5/22/14:  "The Salinas Police Department is committed to protecting and upholding the right to protest. We hold that right as sacred. That being said, the violence that we saw [5/21/14–

learn more

] is unacceptable."

Be respectful of police officers doing their work, whether they may be directing traffic or assisting an injured person–as was interfered with on 5/21/14. (A police officer was administering CPR to a 23-year-old shooting victim when a bottle was thrown, striking the officer in the head.)

Consider bringing gloves and a trash bag so you can leave a neighborhood cleaner than you found it. At minimum, please recycle or toss trash in appropriate containers, or pack it out with you.

Show respect for diverse viewpoints as well as cultural differences.

As reported by Julia Reynolds /

@jreynoldsmh

, the chief of the Salinas Police Department stated he has "not made any determination that either shooting was justified." He further stated that he has "

arranged for the FBI and the Department of Justice civil rights division to conduct independent reviews for both of these shootings." 

http://www.

montereyherald.com/news/ci_258192

45/salinas-chief-promises-doj-review-shooting-investigations

)

As has been well put by some in the Twittersphere, if you're not coming to support the local community but are instead coming to build your activist street cred, stay home! "Anarcho tourists" are not welcome. That type of "solidarity" is not needed and harms the community, working against legitimate goals of those seeking greater justice, peace, and well-being.

As referenced at the top of this post, here is the entire  message from 2nd Chance Family & Youth  Services, which they posted online 5/23/14:
"The Board of Directors and staff of 2nd Chance Family & Youth Services first and foremost come to you in this dire time of need for healing with open arms, hearts, and mind.
"Almost all of us at 2nd Chance have experienced violence firsthand throughout our lives. We have lost clients, loved ones, and at the same time, provided assistance to grieving families who lost loved ones to senseless violence over the last 25 years.
"Our role as an agency is to provide services through a healing, informed approach to the residents of this wonderful community. One of the main foundations of our approach is non-violence through respect.
"We teach that all people should have a sense of responsibility for their own well-being and that of others in their circle. We reject any form of abuse…physical, emotional, or mental,  and [aim to be] sensitive and understanding. Each of us is to be a mirror, reflecting support and clarity to one another. We are to take time to reflect, pray, and include ceremony in our lives. Most importantly, live these values with honesty, integrity, and love.
"It's simple, our agency follows non-violence strategies. We teach through a healing informed approach that, in essence, emulates Martin Luther King and Cesar Chavez style of non-violence strategies to promote social and institutional change. We fully support the right to gather, and protest, but in a peaceful and constructive manner.
"We fully agree that all issues facing our community should be aired in public, peaceful and respectful forums. We will not support any other forums that pit people against each other, promote violence or any form of negativity."
The info below was previously published in 2012.
6. Día de los Muertos / Day of the Dead Commemorations
East Salinas: Día de los Muertos at Closter Park
Closter Park is a vibrant hub for East Salinas residents and visitors when the community observes Día de los Muertos / Day of the Dead.
Danzantes
Honoring the past and enlivening the present with such a festival requires scores of volunteers. 
The annual arts festival for 2012 took place on a beautiful Sunday, October 21.
Among those working hard to make the event happen were the Caminos del Arte Board of Directors–Nicolasa Alvarez, Ruth Hermosillo, Frances Inez Nolder, Caritina Ibarra, Kathleen Navales, Chuy Ramires, Roy Hernandez, Patricia Urzua, Jenny Camarena, and Carol Ruvalcaba.
A parade, hands-on art activities, live entertainment (see poster below for a sampling), food vendors, community booths, and more made up a day of free fun for all ages.

A bike presence was part of the day's mix, including a bike-powered food vendor….
(and see more cargo bikes in Monterey County here)
Biking enthusiasts present at Día de los Muertos included neighborhood bike commuters. These bikers appreciated the cool bike security option of the first-ever special-event bike valet service in Salinas.  The free service made it easy for bicyclists to park their bike securely (even if they hadn't brought a lock), then walk into crowded areas of the event.
Also present were elders who told of their grandkids participating on the Salinas High Cowboys Mountain Bike Team, youth who've participated in Salinas Bike Party rides, and others who appreciate the many benefits of biking.
Salinas Bike Party organized a bike booth, with help from Green Pedal Couriers. Green Pedal owner Michael Baroni provided bike valet racks and support.
SBP volunteers Robb and Kath Garcia provided oral translation services, sharing local biking and related opportunities, including Ridesharing Month.  Special thanks to Virginia H. Mendoza, Monte Bella community volunteer, for oral translations of announcements about Ridesharing Month.  Mari Lynch was also present, distributing bike maps of Salinas and tips on where to get Spanish, and English, info and support for biking in Salinas and countywide.
For a gallery of photos by Jay Dunn of the Salinas Californian, click here.
For more about bicycling in Salinas, click here for "What to do in Salinas, the Monterey County seat." There you'll find links to many more posts on this site about Salinas bike-related activities.  Be sure to take note of the many Salinas HER Helmet Thursdays spots–places that give discounts on Thursdays year-round to people who help HER / Mother Earth by biking.

Short link to this post: http://bit.ly/TheAlisal

This post was published on 24 May 2014. One or more changes last made to this post on 20 October 2023.