Posted by Founder, Bicycling Monterey
Barricade volunteers for Ciclovía Salinas
Ciclovía Salinas barricade volunteers must be age 18 or older.
To be a barricade volunteer for 2019, you may sign up by using the Ciclovía Salinas online form via their Google docs link (or phone 831-717-1384): https://docs.google.com/forms/d/e/1FAIpQLSfPopMFxz5RQR998hFVXgQPnV0Q-F5ZufRMFExM_GE3HFJ1eQ/viewform
It takes barricade volunteers to make an Open Streets event happen!  Scroll down this post to see the names of…
112 people
whose service as barricade volunteers made the launch of Ciclovia Salinas possible.
Click here for Ciclovía Salinas contact information and other CS info and resources, including—in English y en español—posters and fliers; the Ciclovía Salinas etiquette; a summary about Ciclovía Salinas (who, what, when, where); how it happens (more volunteer opportunities, for youth too); and history, including photo galleries and links to the inaugural year acknowledgements plus all other Ciclovía Salinas posts on the Bicycling Monterey website.
🚨We need YOUR help!🚨 Please join us if you're 18 or older to volunteer ! Sign Up now @ https://t.co/n2nlYo7JFp pic.twitter.com/8Kd0ho3vq7

— Ciclovía Salinas (@CicloviaSalinas) September 5, 2019
* * * * *
The info below, first published in 2013, gives you an idea of what barricade duty is all about. It also includes the names of those who served in this way at the inaugural event, October 6, 2013.
Thank You, Barricade Volunteers for Ciclovía Salinas
Salinas Police Chief Kelly McMillin, conducting 6 a.m. training for the inaugural Ciclovia Salinas. (Photo courtesy of Aurelio Salazar, Jr. of Community Foundation for Monterey County, a supporter of Ciclovia Salinas.)
Chief McMillin posted to Facebook on 10/6/13: "The volunteer turnout was UNBELIEVABLE! This event wouldn't have happened without you–thanks everyone!" (Below, see names of over a hundred barricade volunteers.)

We think you're cool too, Chief! Claudia Melendez Salinas reported on some of your additional activity of the day in her 10/6/13 story  in the Monterey County Herald:
"Emiliano Peña, 30, was riding his brand-new bike at Ciclovia when the chain began getting stuck. Chief McMillin had been riding up and down the route all morning, and he stopped to help.
"It's pretty cool the police officer tried to help," Peña said. "I've seen them help if a car breaks down, but not a bike. That was pretty awesome."
And @MelendezSalinas provided hard evidence by sharing the photo below on Twitter (used by permission–thanks, Claudia).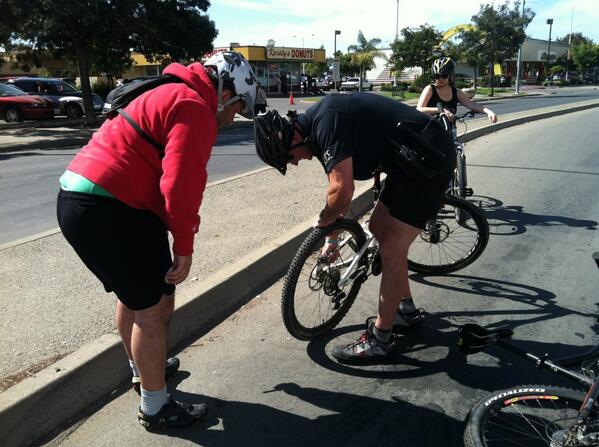 Thanks to the barricade volunteers and the many other individuals and organizations who made this inaugural Ciclovia Salinas so successful–not least of all, the attendees!
Teamwork from City of Salinas officials and staff was vital. Besides Chief McMillin, there were other officials who caught the vision of this youth-led initiative and provided the necessary support so youth could turn their dream into reality. Read more about City of Salinas officials and how they helped. Thank you!
Thanks to City leaders and the many other individuals and organizations who made the inaugural Ciclovia Salinas so successful–not least of all, the attendees!
Ciclovia Salinas is grateful for its supporters. Please refer to Ciclovía Salinas Acknowledgements: Sponsors, Volunteers, Publicists, and More, and join us in saying thanks to these people for helping create Monterey County's first Open Streets! There you'll also find links to photo galleries from the inaugural date, October 6, 2013, along with how to stay in touch for 2014.
* * * * *
Responsible adults are welcome to serve.

Salinas Police Department is providing  additional barricade volunteer training times before the volunteer shifts on October 6th. Barricade volunteers, by law, must be trained by police officers.
Thank you, Salinas PD!

Barricade volunteers: Please read final instructions, provided below, before arriving on October 6.
To see who's already volunteered, scroll to end of this post. Ciclovia Salinas is making Monterey County history–our county's first Open Streets location, and among the first dozen in all of California! Join other barricade volunteers–essential to making this event possible!

To volunteer:
Contact barricades volunteer coordinator

:

Andrea Manzo, 831-717-1384

If you've already signed up for barricade duty and did not receive the Oct 4th and 5th emails from Andrea, please let her know immediately. Thank you.
Download PDF of Instructions:
FINAL – Instructions for Ciclovia Salinas barricade volunteers – revised 10-5-13 v10
 Ciclovía Salinas has also approved etiquette guidelines for all participants,  to help establish a safe, fun event from the start:
Ciclovía Salinas has received the unanimous approval of the Salinas City Council. 
"Sure, barricade duty is a serious responsibility. But that doesn't mean we can't have fun while doing it!" Second from left, Robb Garcia, and at center, Daniel Torres, are guys with a steady eye on community needs. These Knights of Columbus were joined by 21 other local citizens who came to the 9/12 barricade volunteer training in preparation for Ciclovia Salinas on 10/6.
Why are more barricade volunteers needed?
Alisal Street from Sanborn Road to Salinas Street will close to motor vehicles several hours that day fo

r

Ciclovía Salinas, Monterey County's first Open Streets event!  See a drawing of the route on the poster; click here.
Sanborn and Salinas Street will be open to vehicles. A very few intersections along the route will also be open to vehicles, but these will have uniformed police officers directing traffic.
All other intersections along the route will be barricaded and staffed by adult volunteers who have received training from police officers, which is required by law.
That's where you come in! Happily, the chief and officers from Salinas PD recognize Ciclovía Salinas can be of great benefit to Salinas and its visitors, so some of them offered to provide the trainings.
"Mama, when we're on Alisal on Ciclovia Salinas day, we won't have to wait for cars!"
Why help with barricades? Ask Gregg Brady!
Prefer to help in a different way? Click here.
Barricade Volunteer Training:
A message from Salinas Chief of Police Kelly McMillin
Thanks to all who have expressed an interest in helping out with this amazing event, Ciclovía Salinas, either by your direct participation or by rounding up responsible adults who can help us with the many street closures needed to ensure a safe and successful event.
Ciclovía Salinas will happen Sunday, October 6 from 10 a.m. to 2 p.m.
Volunteers will be needed to staff barricades and ensure no civilian traffic enters the event, and if the need arises, to take the barricades down as necessary to allow access for emergency vehicles.
The more volunteers we have, the less time each of us will have to spend on the barricades. More volunteers mean we can relieve each other and even participate in the event activities ourselves.
The law requires that volunteers on traffic post receive training from the Police Department.
For those volunteers who could not attend the 9/12/13 training session, we'll do another training the morning of the event, before we send people out to their posts. [Update: Salinas PD has extended the courtesy of providing additional volunteer training times, for the convenience of volunteers.]
With sincere thanks and best regards,
Kelly J. McMillin, Chief of Police
Salinas Police Department
222 Lincoln Avenue, Salinas, CA 93901
(831) 758-7999 – kellym@ci.salinas.ca.us
Salinas Police, like Officer Kevin Mead below,
take their jobs seriously. And these Constables of the Peace in the Monterey County seat take bicycling and other people-powered forms of transportation seriously too! That's one of the many reasons they support Ciclovía Salinas, the first Open Streets event in Monterey County.
At the end of this post…
Learn more about Ciclovía Salinas, and how to support it.
Who's already volunteered to help with barricades for Monterey County's first Open Streets, Ciclovia Salinas?
Below is a partial list. To volunteer, contact Andrea (see top of post).  To have your name added to this published list (to help inspire additional volunteers!), please contact Mari.
1.      Aaron R.
2.      Aida Lopez
3.      Alan Stumpf
4.      Albine
5.      Alivia Moore
6.      Ana Maria Flores
7.      Ariana Green of  Transportation Agency for  Monterey County
8.      Bobby Nunes
9.      Brad O.
10.  Brenda Jacobo
11.  Carmela Rebancos
12.  Cath Tendler-Valencia of Seaside for Velo Club Monterey
13.  Chris Thompsen
14.  Claudia Melendez Salinas of Monterey County Herald
15.  Cristina Sotelo
16.  Daniel Torres of the Knights of Columbus
17.  David Tucker
18.  Deborah Warcken
19.  Denise
20.  Doug Chandler of DC-10, Salinas
21.  Elizabeth
22.  Elizabeth Murillo
23.  Evelyn
24.  Francis C. "Frank" Jones, Jr.
25.  Frank Henderson of  Hartnell College
26.  Gabriella Luzada
27.  Glenn Cockrell
28.  Gregg Brady of Salinas
29.  Guadalupe Arroyo
30.  Guadalupe Gonzalez
31.  Guadalupe Guzik
32.  Hector Llamas
33.  Ivette Perez
34.  Jacky Luna
35.  James Collins
36.  Jamies
37.  Jan Valencia of Cycle Stop Honda, Salinas, for Velo Club Monterey
38.  Janie Rommel-Eichorn of Big Sur, for Carmel Valley Rotary
39.  Jasmine
40.  Javier Ortega
41.  Jazmin Lopez
42.  Jeff Feldeisen
43.  Jeff Post
44.  Jeff Wriedt of Velo Club Monterey
45.  Jessica Alcantar
46.  Jim Wrona of Velo Club Monterey
47.  Joanna
48.  Joe Joe A.
49.  Joe Santiago of Velo Club Monterey
50.  Joel Hernandez Laguna of Poder Popular, Center for Community Advocacy
51.  John Lukasko
52.  Jose
53.  Jovani Castro
54.  Juvencio Flores
55.  Keith Vandevere of Velo Club Monterey
56.  Kelly Dameschen
57.  Khanh Nguyen
58.  Kitcia Aguilar
59.  Larry Dick of Velo Club Monterey
60.  Lilia Caballero
61.  Lorenzo Holquin of Watsonville Bike Shack Cooperative, a project of Bike Church, Santa Cruz
62.  Louis P. Romero
63.  Luis
64.  Luis Aguirre
65.  Maritza Delgado
66.  Martha Jimenez
67.  Martin Parra
68.  Mary Ellen Dick of Velo Club Monterey
69.  Matthew Sundt of Velo Club Monterey
70.  Mayra Silva
71.  Melvin Jimenez
72.  Michael Vierra
73.  Miguel
74.  Miguel Caballero
75.  Miguel Lopez
76.  Miguel Padilla
77.  Ms. Silva
78.  Paul
79.  Paul Ramirez, Salinas bike commuter, for Watsonville Bike Shack
80.  Pavel Morales
81.  Peter Eichorn of Big Sur for Carmel Valley Rotary
82.  Petey P.
83.  Phil Yenovikian of Velo Club Monterey
84.  Rafael Ramirez
85.  Raul Ramirez
86.  Rebecca Causey
87.  Rich Schwarz
88.  Rigo Alcantar
89.  Rob Garcia for Salinas Bike Party and Knights of Columbus
90.  Robert Gil
91.  Robin Harness of Velo Club Monterey
92.  Rocio Gil
93.  Ron Yara of Velo Club Monterey
94.  Rosie Begar
95.  Ruben Ramirez
96.  Ruth Mora
97.  Sal Lau for Watsonville Bike Shack
98.  Saul Soto of Tony's Bike Shop, Castroville
99.  Sergio Arredondo for Watsonville Bike Shack
100.                      Sergio Jimenez
101.                      Shayne Flynn
102.                      Sherry Chandler of DC-10, Salinas
103.                      Skip Latham of Velo Club Monterey and Sea Otter Classic
104.                      Sonya Garcia
105.                      Steve R.
106.                      Susan Ragsdale-Cronin, Del Rey Oaks bike commuter
107.                      Teresa McMillin of Salinas
108.                      Todd  Muck of Transportation Agency for  Monterey County
109.                      Tony Acosta
110.                      Troy  Lyman
111.                      Vera Noghera of Velo Club Monterey
112.                      Yakira
Scroll down for general information about Ciclovia Salinas.
* * * * *
Learn more about Ciclovia Salinas
This post was first published on 7 September 2013, with some subsequent updates.
This post was published on 27 July 2017. One or more changes last made to this post on 6 September 2019.